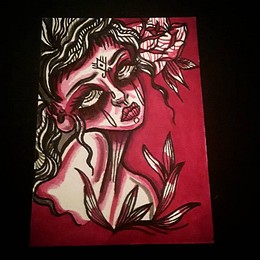 BIOGRAPHY

My artist name is ESS22.
I was born in Chicago, IL, in the USA in 1984.
My first experience with art was when I was four years old. A hand turkey painting I made was compared to the work of Jackson Pollack. It made me feel confident that maybe I could be successful at making artwork for a living. Years later, I won 2nd place in a school art contest for a Canadian goose rendered using oil pastels. I also attended The Illinois Institute of Art Chicago but had to drop out because I couldn't afford it on my own.
Skateboard art decks, comic art, and punx, and goth culture really inspired me, so I ended up getting lucky enough to learn how to tattoo.
Much to the disappointment of the late art collector, B. Guttman, who encouraged me to take up photography instead and discouraged me strongly from going into tattooing. I gifted her a lithograph of a Buddha with flames encircling it after she showed me her magical collection and showed me how amazing art collectors are. She let me know that artists are valued and necessary in society, and there are people who support this idea. Thank you, you'll never know how much the time you took out to show me your collection and talk art has kept me going.
Tattooing was not easy for me at all, as I had to battle the usual BS being female, of color, and not normative with my presentation. But, I learned a lot, had some good customers, and thankfully, some memorable times. Thank you, it was a privilege and not a right to be able to tattoo.
Fast forward, things changed. I moved out to the Beast Coast to start over as a survivor of an abusive and neglectful family.
Sadly, I encountered housing instability and my tattooing career, and any possibility of having a normal, peaceful life was incinerated instantly. But still, I kept going, making artwork. Not to make a name for myself. Not to seek fame and fortune. But, because I had spent years desiring to create artwork and get paid for it, in a way that would offer me flexibility with my time and the ability to roam if needed.
Seriously, I never wanted to end up wearing suits and being stuck inside an office.
Yes, I did have a solo art show at the end of 2013. But I didn't feel that I had earned my place.
And then life threw me some of the bitterest, meanest lemons available. So, I got back to work painting and drawing, digging into the influences of tattooing, printmaking, comic art, and subcultures.
In the spring of 2018, I successfully entered a painting into Las Laguna Art Gallery.
In 2019, my artwork was chosen to advertise an upcoming art show on its postcards, but due to some unfortunate events, the work never made it.
I kept going, and in 2020, I kicked off the year participating in as many art shows as I could. Whether it was mail art, sticker art, or online or offline galleries.
In the summer of 2020, I had my artwork published in Art Hole UK Magazine and had work online The Artblog.
And 2021 started off nicely, in the form of an opportunity to connect with CARGO as a member and entering my artwork into the 10th Annual Women's Art Show with Light Space Time Gallery.
Currently, I still work predominantly on paper, using ink and a spitshading technique with a brush. No pens!
Still on the Beast Coast... until I find a new nest. You can email me at loveandloathingart@gmail.com or find me online on Instagram @loveandloathingart.
Artist Statement

My artwork is informed by tattooing, textiles, printmaking, and a love for working with a brush on paper. There is nothing like the relationship between the eye, the hand, and a brush dipped in a medium on paper, compared to using a pen to create linework. After making a lightweight sketch or transfer using pencil on paper, unless I dip straight into my ink, I create my emotive figures.
Group Exhibitions
2021

January 2021 - "10th All Women Art Exhibition," Light Space & Time Online Art Gallery

2020

December 2020 - "All Colors," Contemporary Art Gallery Online
July 2020 - "Black & White," Colors of Humanity Art Gallery
April 2020 - "Monochrome." Las Laguna Gallery
February 2020 - "Red," Colors of Humanity Art Gallery
January 2020 - "Sticker You Presents...Repeeled Art of the Sticker Show, Toronto, CANADA
January 2020 - "9th All Women Art Exhibition," Light Space & Time Online Art Gallery
2019
September 2019 - "Slideshow Sideshow," Red Studio Garage
2018
April 2018 - "Comics, Anime, Cartoons & Fantasy," Las Laguna Gallery
Publications
August 2020 - Art Hole UK Magazine No. 3
Spring 2020 - The Artblog, "Artists in the Time of Coronavirus"